ABOUT THE NATIONAL RESIDENT MATCHING PROGRAM
---
The

 National Resident Matching Program® ("The Match®") is an independent, non-profit organization incorporated in Illinois in 1953 with the express purpose of facilitating the systematic placement of U.S. MD medical school students into graduate medical education (GME) positions in United States teaching hospitals.
In 70 years,

 The Match has grown to include U.S. DO medical students and graduates and U.S. citizen and non-U.S. citizen international medical school students and graduates among its applicants in the Main Residency Match®. It also manages the Specialties Matching Service® to support more than sixty-five Fellowship Matches. The NRMP oversees National Resident Matching Program International® (NRMPI®), a wholly-owned, not-for-profit subsidiary that provides physician matching services for private and governmental agencies located outside the U.S. and Canada.
The Match is the largest health care matching service in the world, meeting the needs of more than 60,000 medical students and graduates annually who compete for more than 40,000 residency and fellowship positions. The Match also offers unparalleled data resources and is committed to research that benefits the GME community.
MISSION
Match healthcare professionals to training programs through a process that is fair, equitable, efficient, and reliable, and provide meaningful Match data and analyses to stakeholders.
VISION
Serve as a trusted global provider of matching services for healthcare professionals and the premier Match data resource.
MESSAGE FROM THE PRESIDENT AND CEO
---

As I look back on this past year, and ahead at our future, I see the medical education community undergoing dramatic change. Some of that change will be transformational, and some will continue to challenge the framework and traditions of the transition to residency.
Since my tenure began in October 2019, the NRMP has been challenged to think differently, critically, and to expand our perspective. Along with you, the COVID-19 pandemic forced us all to approach our work in new and sometimes uncomfortable ways, to reflect on how our processes should change in order to mitigate some of the challenges faced by the medical education community, and to rethink our assumptions about the stressors and issues arising throughout the transition to residency. The NRMP has been called upon to make sweeping changes in policy and Matching processes, some of which we acted upon, and some we did not due to concerns about the potential for exacerbating inequity, stress, and harm to Match participants and specialties. Throughout this time, the NRMP has remained steadfast in its mission and obligation to the medical education community to ensure that changes are rational, evidence-based, and have input from the medical education community.
Challenges aside, the NRMP has also experienced great success this past year. Consistent execution of accurate and successful Matching Programs and enforcement of the commitments reinforce stability in the transition to residency. The NRMP's Matching Program remains in demand and has expanded to facilitate the subspecialty training of residents in specialties not previously participating in the Match. Match policy and Codes of Conduct were modernized, underpinning the rights and responsibilities of all Match participants, and we implemented new policies and processes that allowed for decompression of some stressors associated with Match Week. The NRMP also partnered for research with multiple organizations to help clarify issues and understand concerns, and we implemented the collection of voluntary, primary source demographic data across all applicants to analyze and inform the community about trends during the transition and the equitable treatment of applicants across the transition to residency.
During fiscal year 2021, the NRMP realized a modest increase in revenue, a direct result of the increasing numbers of applicants, programs, and institutions participating in the Matching Program. The NRMP has not increased matching fees since 2018.  At the same time, the NRMP also worked to reduce expenses across administrative, legal, and general spending, and again, achieved a clean audit resulting from well-grounded financial management and reliable internal controls. These savings have enabled the NRMP to maintain a financially stable organization, ensure the resources required to maintain a high level of technology and cybersecurity, and engage in new and innovative business efforts.
The NRMP executive leadership and Board of Directors engaged in a year-long process of strategic planning, which was completed in January 2022 and is described throughout this report. In addition to a focus on the NRMP's core business of matching services, the Board implemented an expansive research strategy and reinforced its commitment to advanced technology and robust cybersecurity principles, stringent process improvement, and exploration of innovative matching processes and services for a forward-leaning posture.
Finally, the NRMP staff formed a set of Core Values which dictate how we come to work each day, how we treat each other, and how we approach our relationship with the medical education community. While there is much more to Core Values than a few words, we are focused on demonstrating Dedication, Trustworthiness, and Collaboration to each other and to you. These Core Values guide our efforts to strengthen relationships that may be strained by distance and remote work, recognize excellence through a staff-led recognition program, and enhance the NRMP's program of professional development so that we give you our best selves every day.
The majority of the NRMP's team has worked remotely since March 2020 and the team now includes members all over the country.  With the adjustment to this "new normal" the team continues to display fortitude, creativity, and a can-do spirit. We remain focused on our mission and committed to advancing continuous process improvement and policy improvements that clarify the rights and responsibilities of Match participants. We have, and will continue to implement technologies that harden, streamline, and secure Match data and processes.  And, we look to expand the research agenda and lean into partnerships and initiatives that allow for a better understanding of the transition to residency with the intent of helping the community to form solutions.
With so many positive advancements in the organization, I am confident in the future of the NRMP and in its ability to build on its history of credible and reliable service to the community. I look forward to sharing more of our work with you, collaborating on Match process, supporting the success of our Match participants, and continuing to serve you as President and CEO of The Match.
Regards,
Donna L. Lamb, DHSc, MBA, BSN
MESSAGE FROM THE BOARD CHAIR
---

As I began my second year as chair of the NRMP Board of Directors I reflected on all that has been accomplished by the NRMP in the last year. The first round of demographic data was collected and we look forward to determining how best to share the data to inform issues of diversity, equity, and inclusion in the matching process. The research agenda was expanded and the results will contribute in a data-informed manner to the national conversation around the transition to residency. The NRMP has completed a number of initiatives to improve the overall match experience for learners and programs. And much more.
This October we will once again have an in-person Transition to Residency Conference in San Diego, CA. The plenary speakers are excellent and I'm sure they will provide inspiration for our work. The workshops and panels touch on a myriad of important and timely issues for the community and will promote meaningful discussion. Most of all we will be able to have the networking opportunities that are so important for all of us as we tackle the issues that we address in our daily work.
I remain extremely proud to be affiliated with the NRMP and look forward to all that will be accomplished in the upcoming year as the NRMP implements its strategic plan and charts progress as a critical organization in medical education.
Regards,
Donna D. Elliott, MD, EdD
STRATEGIC PRIORITIES
---
For 70 years, the NRMP's strategic priorities have been focused primarily on running the Matching Program and publishing data to the community. However, with a new CEO at the helm beginning in 2019, the onset of the pandemic, and call for change in the transition to residency, the NRMP has undertaken purposeful and thoughtful examination of the organization and its role in the transition to residency. In 2020, NRMP executive leadership and the NRMP Board of Directors initiated an extensive strategic planning process, thinking candidly about the future of the organization and its role in the changing landscape of undergraduate and graduate medical education, and that work culminated in 2022. As the path forward has crystallized, the NRMP has remained committed to relying on the following principles to preserve and protect the Match:
Ensure change processes are deliberative and data-driven
Consider the potential unintended consequences
Prevent, to the extent possible, any harm to constituents
Prioritize equity for, transparency to, and accountability of all stakeholders
As the NRMP moves forward, its strategic priories will focus on these key areas as a way to ensure excellence of service and connection to community: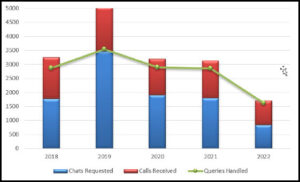 Engage in diligent quality assurance and continuous quality improvement to provide efficient and reliable matching services that deliver exceptional customer support and meet the needs of the medical education community.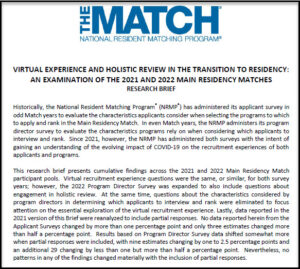 Continuously evolve a meaningful research agenda that seeks to understand and provide thoughtful analysis of issues related to the transition to residency and foster meaningful partnerships that strengthen the UME-GME continuum.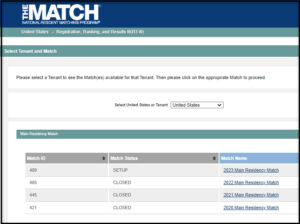 Maintain advanced technology platforms built on robust cybersecurity principles to ensure participant data is protected from threat and that the NRMP continues to deliver trusted and reliable results.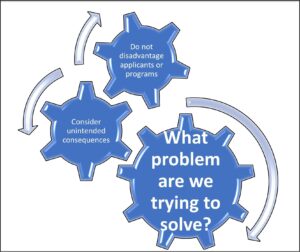 Continuously seek improvement and innovation in Match processes that reduce stressors, protect Match participants, and enhance equity of experience.
Avg. Monthly Website Visitors
PHYSICIAN-LED GOVERNANCE
---
The NRMP is governed by a 19-member Board of Directors with deep experience in medicine, medical education, academia, and research.  Directors include medical school deans and advisors, designated institutional officials, MD and DO program directors, MD, DO, and IMG resident physicians, MD and DO medical students, and public members. Directors represent a variety of medical specialties, reflect diverse ethnic, racial, and religious backgrounds, and nearly one-half are women. Dr. Lamb is an ex-officio, non-voting Director of the Board.
The Board of Directors also maintains two advisory groups: Board Liaisons and the Research Advisory Committee. 
Board Liaisons represent partner organizations, societies, and military members who engage in an open dialogue with the Board annually to discuss issues pertaining to medical education and initiatives undertaken by their organization(s) or the military. 

The Research Advisory Committee (RAC) works with the organization to discuss and inform research initiatives. 
FINANCIALS
---
The NRMP has worked to uphold a high standard of integrity and honesty in all financial management practices. As such, the NRMP has maintained a stable financial status that underpins the core mission of the Match and has provided for organizational growth in technology, processes, and human capital.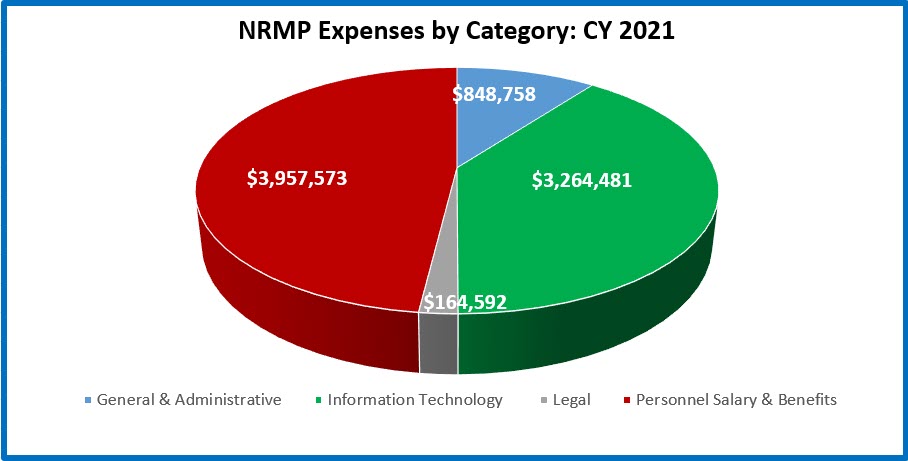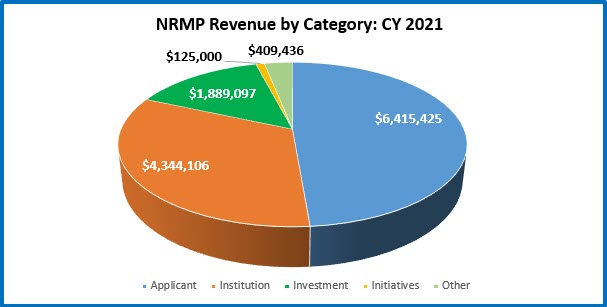 The Match includes free access to resources including

Data Reports and Research Articles

Newsletters and Webinars
PRISM Smartphone App and YouTube® Channel
R3® System Support Guides and Micro-Learning Videos
Increases in revenue are directed toward
Software Development

Information Technology (IT) Upgrades
Subsidization of the Transition to Residency Conference
Interactive, Tableau-Based Tools and Resources