The COVID-19 pandemic set in motion extraordinary changes in the appointment and recruitment process. The NRMP used the opportunity to consider how it could best support applicants in their transition to residency and improve timelines for the 2021 Main Residency Match cycle, 2022 Main Residency Match cycle, and beyond.

The 2021 Match Cycle.  The NRMP executed fundamental changes to the registration and ranking processes, modifying pinch points to optimize the time needed for recruitment.
+ The standard Match registration period was extended from November 30 to Jan 31 to allow programs more time to to finalize their quotas and applicants more time to register for the Match before late fees were applied
+ The ranking period was pushed to February-March to allow more time for  interview scheduling and completion
+ The SOAP verification process required of medical schools was eliminated to reduce confusion and stress associated with Match Week and streamline the time between the Rank Order List Deadline and Match Week
The 2022 Match Cycle.

Building on the modifications introduced in the 2021 Main Residency Match, the NRMP dramatically changed Match Week to provide more time and flexibility for unmatched or partially matched applicants to engage in a more robust application and interview period before the SOAP rounds began.
+ Match status notification was provided earlier on Monday of Match Week to give unmatched and partially Matched applicants a jump on strategizing about SOAP
+ All four SOAP rounds were pushed from Wednesday and Thursday of Match Week to Thursday, providing more time for applicants to submit applications and engage in interviews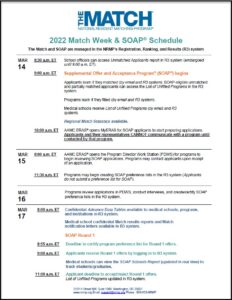 The 2023 Match cycle and Beyond. The NRMP is considering other ways to improve on the Match cycle and related processes, and this summer has issued a call for public comment regarding the feasibility of a Two-Phase Match.  Adjustments would be made to the flow of the Match, but the September – March timeframe would be preserved.  You can read more about the Two-Phase Match on the "NRMP Champions Innovation" page of this report.