Discovering real solutions to real problems takes a team approach, individuals coming together with various perspectives and ideas for change. Leveraging partnerships is essential for the NRMP to help clarify the root causes of some of the challenges impacting the transition to residency and effect solutions where possible. In 2020 and continuing in the future, NRMP is proud of the collaborations it has formed and is committed to building new alliances.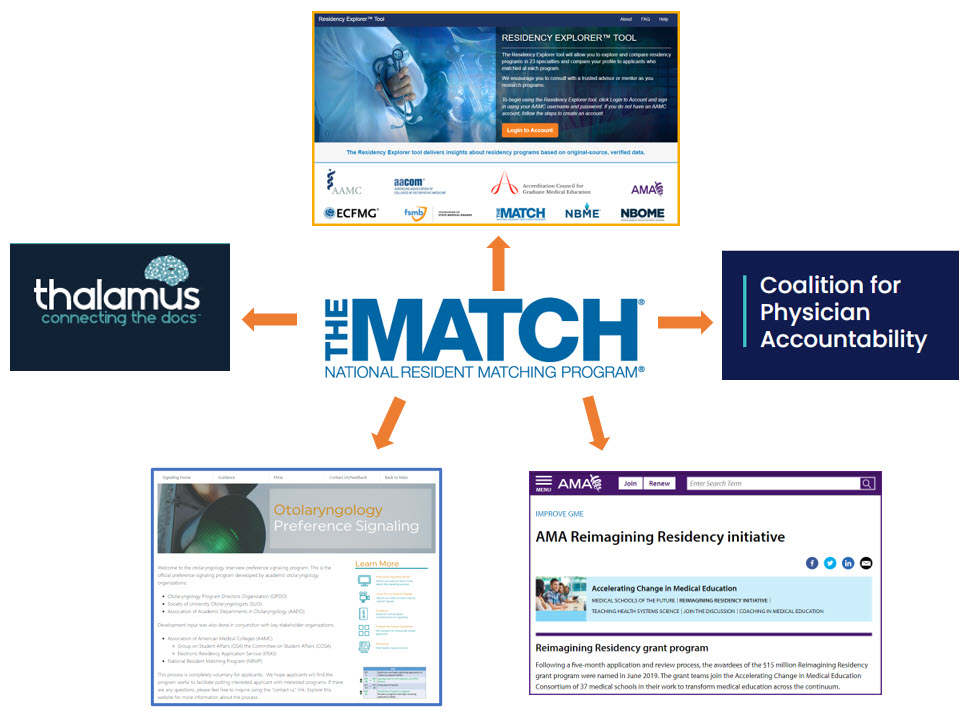 RESIDENCY EXPLORER TOOL – Residency Explorer is an online database that allows learners to compare their personal characteristics to residency program information to aid in the application process.  The NRMP provides program quota and fill data and applicant match outcomes by specialty so learners can better understand the profile of applicants who match to a particular program.
COALITION FOR PHYSICIAN ACCOUNTABILITY – CPA is a membership organization of medical education, licensing, and certification bodies committed to advancing health care and improving the quality of physician education, training, and assessment. In 2020, NRMP executive leadership helped develop much-needed recommendations for navigating the application and recruitment cycle during the COVID-19 pandemic. Going forward, the NRMP will contribute to conversations about how to improve the transition by addressing fissures in the transition to residency

.
REIMAGINING RESIDENCY – In 2019, the AMA launched the Reimagining Residency initiative to improve the transition to residency and "transform the way future physicians are trained."  For two years, the NRMP has been invited to patriciate in the proposal vetting process and identify projects that might successfully effect the change they seek.
PREFERENCE SIGNALING – For the 2020 recruitment cycle, three academic Otolaryngology organizations created a preference signaling pilot project for Otolaryngology applicants to create a pathway to connect interested applicants and interested programs to each other and potentially reduce the number of applications submitted.  NRMP executive leadership worked with Otolaryngology leadership to ensure the framework of the program did not violate Match policy and provided critical messaging for applicants and programs that referenced appropriate communication.   
THALAMUS – Thalamus is an interview scheduling software company. As part of its strategic focus on partnerships, the NRMP will work with Thalamus in 2021 to better understand applicant application and interview behaviors and their impact on Match outcomes.