The Specialties Matching Service saw record-high participation in 2018 with services provided for 66 subspecialties in 23 separate Matches.  Although the Medical Specialties Matching Program (MSMP) remained the largest Fellowship Match with 17 subspecialties, 15 of the Pediatric subspecialties came together in 2018 to create the second largest Fellowship Match, the Pediatric Specialties Fall Match.

Numbers of Applicants and Programs in the SMS by Appointment Year, 1993-2019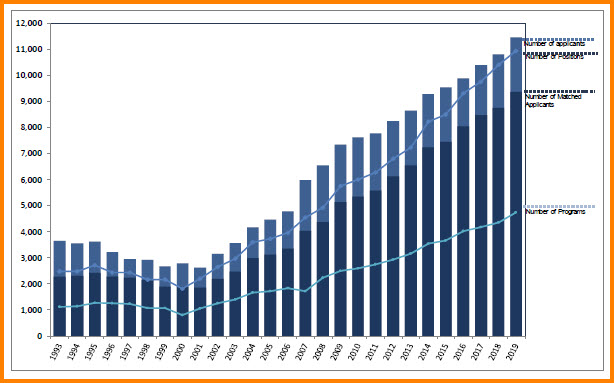 HIGHLIGHTS FROM THE 2018 SMS MATCH SEASON FOR JULY 2019 APPOINTMENTS:
STATISTICS

:
  4,750 programs in 66 subspecialties
                    574 MORE PROGRAMS
                   

1,170 MORE POSITIONS



  9,378 positions filled (85.8%)
                   

625 MORE POSITIONS FILLED



11,467 applicants participated in at least one Fellowship Match; 81.8% obtained positions
                   

1,057 MORE APPLICANTS



MEMBERSHIP

:
FIVE

new subspecialties joined the SMS: Academic General Pediatrics, Adult Congenital Heart Disease, Clinical Cardiac Electrophysiology, Clinical Ultrasound, and Emergency Medical Services.
ALL IN

:
ONE

new subspecialty – Endocrinology – joined Breast Imaging, Infectious Disease, Medical Genetics, Nephrology, and Sleep Medicine to voluntarily implement the All In Policy.
Number of Active Applicants and Percent Matched, 2015 - 2019