The Specialties Matching Service saw record-high participation in 2019 with services provided for 67 subspecialties in 22 separate Matches.  The Medical Specialties Matching Program (MSMP) for Internal Medicine remains the largest with 18 subspecialties while the 

Pediatric Specialties Match is second largest with 

16 subspecialties.

Numbers of Applicants and Programs in the SMS by Appointment Year, 1993-2020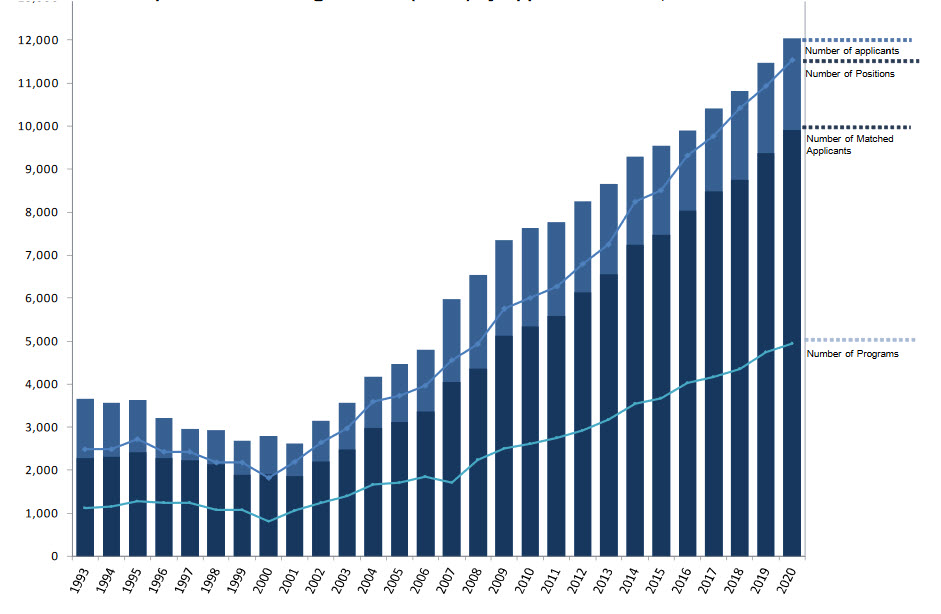 HIGHLIGHTS FROM THE 2019 SMS MATCH SEASON FOR JULY 2020 APPOINTMENTS:
STATISTICS

:
  4,946 programs in 67 subspecialties
                    196 MORE PROGRAMS
                   

609 MORE POSITIONS



  9,916 positions filled (85.8%)
                   

538 MORE POSITIONS FILLED



12,042 applicants participated in at least one Fellowship Match; 82.3% obtained positions
                   

575 MORE APPLICANTS



MEMBERSHIP

:
THREE

new subspecialties joined the SMS: Advanced Heart Failure & Transplant Cardiology, Musculoskeletal Radiology, and Pediatric Transplant Hepatology.
ALL IN

:
FOUR

 new subspecialties – Advanced Heart Failure & Transplant Cardiology, Interventional Radiology, Musculoskeletal Radiology, and Sports Medicine – joined Breast Imaging, Endocrinology, Infectious Disease, Medical Genetics, Nephrology, and Sleep Medicine to voluntarily implement the All In Policy.
Number of Active Applicants and Percent Matched, 2016 - 2020